By Linda Fisher Thornton
We all need better ways to deal with difficult situations. Thinking on autopilot or going with our "gut instinct" won't guide us through the ethical grey areas. Michael McKinney published an article I wrote that digs into how to lead through complexity. It is a timely topic, and as I shared in the article, "many leaders I talk with have a feeling that there is a more meaningful way of thinking and leading than what they've been seeing. "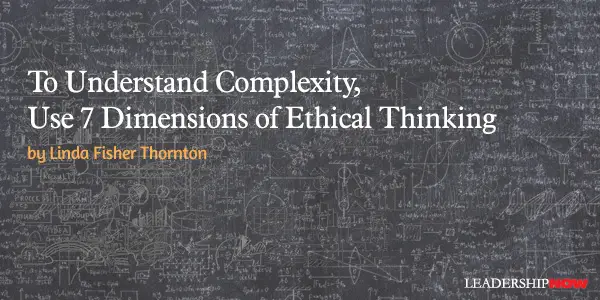 This article explains that "there is no 'good leadership' without ethical thinking" and shares the framework from the book                  7 Lenses as a tool for making ethical choices in complex situations.
When we ground our choices in ethical values, we consider our impact on constituents in the short run and over the long run. That's what good leadership is all about.
Read the article on the Leading Now Blog. Comment here to let me know what you think!
Special Series Celebrating the 2nd Printing of 7 Lenses: 
Why Ethical Thinking Matters (Part 1)
Why Ethical Thinking Matters (Part 2)
Why Ethical Thinking Matters (Part 3)
Why Ethical Thinking Matters (Part 4)
Why Ethical Thinking Matters (Part 5)

©2018 Leading in Context LLC